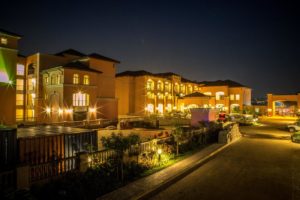 Mestil Hotel & Residences (Kampala)
On the edge of the upscale Nsambya neighbourhood, this down-to-earth hotel is 3 km from both Kampala train station and the Uganda National Mosque, and 6 km from the Kasubi Tombs.
Featuring wall-size photographic murals, the warmly decorated rooms come with smart TVs and kitchenettes. The 1- and 2-bedroom suites add separate living rooms; 3-bedroom penthouse suites have private rooftop terraces. Wi-Fi is available.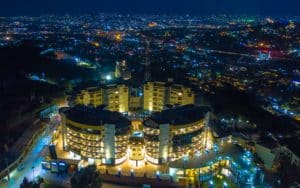 Protea Hotel By Marriott Naguru Skyz
Set in 4 buildings, this premium hotel is 4 km from the Uganda Museum, 8 km from the Kasubi Royal Tombs and 49 km from Entebbe International Airport.
Polished rooms feature flat-screen TVs and Wi-Fi access, as well as minibars, tea and coffeemaking facilities, and safes. Upgraded rooms add separate living/dining areas and furnished balconies, and club-level rooms offer access to private dining rooms and meeting facilities.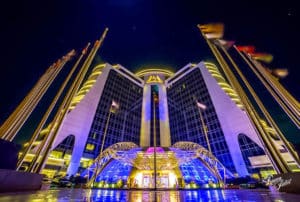 Pearl of Africa Hotel
Set on 6 hectares of gardens, this polished hotel in a high-rise building with a glass facade is a 17-minute walk from Independence Monument, and 2 km from both Kampala Railway Station and history exhibits at Uganda National Museum.
Refined rooms offer free Wi-Fi, flat-screen TVs and minibars, plus en suite bathrooms with rainfall showers and soaking tubs. Upgraded rooms and suites add sitting areas and panoramic city views.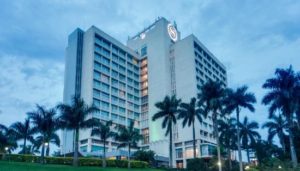 Sheraton Kampala Hotel
This upscale hotel in central Kampala is a 15-minute walk from the Nakasero Market, 3 km from the Uganda National Museum and 6.5 km from the Baha'i House of Worship.
Stylish rooms with balconies have free Wi-Fi, flat-screen TVs, and tea and coffeemaking facilities. Suites add separate living areas, while club rooms and suites offer private-lounge access, breakfast and snacks. Room service is available 24/7.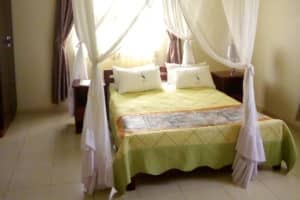 THE CRESTED CRANE BWINDI HOTEL
The Crested Crane Bwindi Hotel is a beautiful family friendly accommodation near the world's renowned Bwindi Impenetrable National Park. Located in South Western Uganda, 525 kms from the capital city Kampala and 14.7 kms before Bwindi Impenetrable National Park – Buhoma, a Gorilla tracking forest.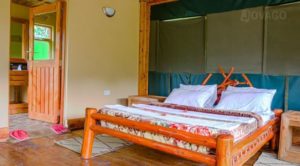 Rushaga Gorilla Camp
Located in Bugambira, near Rushaga Gorilla Tracking, Rushaga Gorilla Camp provides free WiFi, and guests can enjoy a garden and a terrace. Free private parking is available on site.
A terrace with garden views is offered in every unit.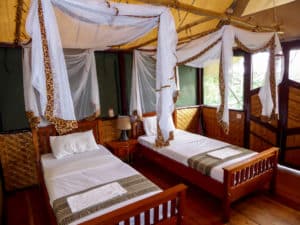 The Bush Lodge
Located 3.6 km from Katunguru Gate Queen Elizabeth National Park, Queen Elizabeth Bush Lodge offers a bar, and accommodation with a balcony and free WiFi.
Guests at the lodge can enjoy a continental or a buffet breakfast.We speak your language!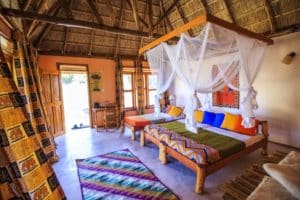 Wild Tracks Overland Camp
Wild Tracks Overland Camp features a restaurant, garden, a bar and shared lounge in Kasese. Featuring ticket service, this property also provides guests with a barbecue. The accommodation provides a 24-hour front desk, room service and currency exchange for guests.
At the hostel, each room includes a patio with a garden view. All units at Wild Tracks Overland Camp are equipped with a seating area.

Pakuba Safari Lodge
The lodge location affords panoramic views of the mighty River Nile, sweeping vistas of the surrounding riverine forest below and captivating surrounding wilderness where travelers get the chance to sight Giraffes, Elephants, Antelopes and occasionally Leopards that pay regular visits to the lodge.Our tastefully furnished rooms offer comfort, style and serenity.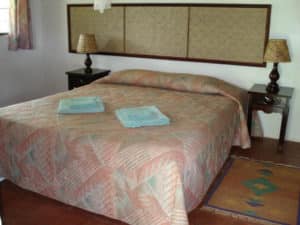 Simbiya Safari Lodge
Sambiya River Lodge is situated only 15 minutes from the top of the magnificent Murchison Falls.
Guests stay in any of the 26 double rooms designed as individual and family thatched cottages which have en suite bathrooms, fans, screened doors & windows, mosquito nets, and a veranda to relax and enjoy the commanding views of quintessential Africa. Twelve basic bandas are also available for guest accommodation.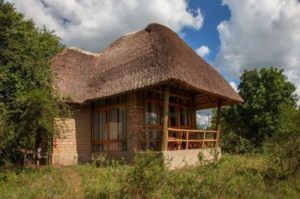 Mburo safari eco lodge
Mburo Safari Lodge is a luxury and eco friendly lodge in Lake Mburo National Park.
Relax in one of our luxurious cottages, all raised on a wooden platform and covered by a grass-thatched roof, perfectly blending with the natural environment, stylishly and thoughtfully designed for your absolute comfort, convenience, and pleasure.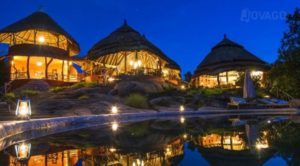 Mihingo Lodge
Mihingo is a luxurious, family owned lodge in a magical setting adjacent to Lake Mburo National Park. Perched high on a rocky kopje, whose pre-Cambrian granite boulders were formed over 500 million years ago, it has spectacular views over a vast Savannah landscape.
Designed to blend in with its fragile surroundings, this environmentally friendly lodge offers comfort, relaxation and the experience of being at one with nature.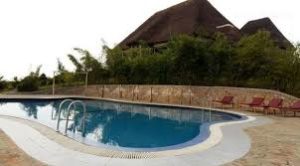 The Baboon Safari Resort
Located in western Uganda, just outside the Queen Elizabeth National Park at Kyambura escapement with a strategic view of the park and the magical Rwenzori mountan, the baboon safari resort offers you an epic tourism experience.
The baboon safari resort offers a unique opportunity to view a range of wild life, flora and fauna in the queen Elizabeth National park. If you are lucky you may see elephants grazing a few hundred meters from your coffee table. This ,coupled with our luxurious cottages and sumptuous meals; offers you an unforgettable experience.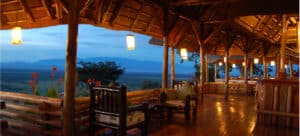 Katara Lodge
Katara Lodge is situated on the Great Rift Valley escarpment with uninterrupted views of the savannah, Lake Edward and the Virunga and Rwenzori mountain ranges beyond. Katara Lodge is located 16km from the Katunguru gate of the Queen Elizabeth National Park, which is Uganda's premier safari destination and one of the most biodiverse reserves in the worldly lodge offers comfort, relaxation and the experience of being at one with nature.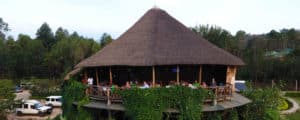 Parkview safari lodge
Parkview Safari Lodge is located at the outskirts of Queen Elizabeth national park, overlooking panoramic views of the "medley of wonders" and capturing the beauty of the park in a most memorable way. The building style is a combination of modern and local materials, opening up to the wilderness beyond. The lodge reflects true African ambiance and hospitality, providing comfort to our esteemed guests. This is a home away from home! Our unique cottages are endowed with en-suite bathrooms, private balcony with spectacular views to the park and Bunyaruguru hills.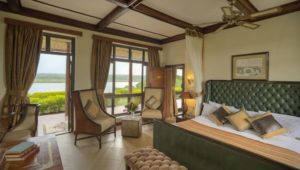 Para lodge
Established in 1954, Paraa Safari Lodge is in Murchison Falls National Park. The lodge is located in the north west of Uganda over looking one of nature's best kept secrets, the River Nile, on its journey from its source at Lake Victoria to join Lake Albert – here it is suddenly channeled into a gorge only six meters wide, and cascades 43 meters below. The lodge offers comfort, relaxation and the experience of being at one with nature.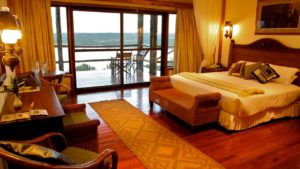 Mweya safari lodge
Mweya Safari Lodge offers visitors an unforgettable experience. Located on a peninsula within the heart of the Queen Elizabeth National Park, Mweya Safari Lodge is surrounded by the magical Rwenzori Mountains aptly described as the 'Mountains of the Moon'.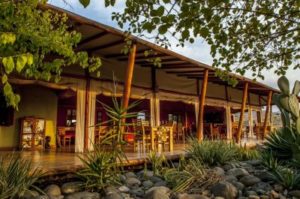 Marafiki Safari Lodge
Marafiki Safari Lodge is more than a safari lodge, its an experience of wilderness, luxury & comfort in the bush. The main area consists of a dining and lounge area, a breakfast deck, bar, infinity pool and an open fire pit, where you can enjoy the stunning African night skies. Rooms are all spread out in there own secluded settings, with views over the iconic lake George and Kasenyi Savannah Planes, with the perfect positioning for watching the sunrise from your bed.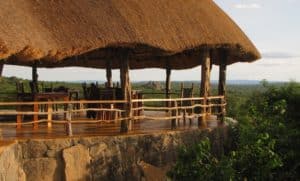 Rwakobo Rock
Rwakobo Rock  is  a peaceful and secluded retreat where you can breathe in the essence of  wild Uganda. The 8 comfortable and spacious cottages are dotted around the hill, all very private and offering great sunset views. The main dining area overlooks an expanse of rock that adjoins the park. Set in the pristine Ankole ranchlands surrounding Lake Mburo National Park; whether you want to sit back, sip on an ice-cold drink in a hammock or head out into Lake Mburo National Park for a day of exciting exploration, there is something for everyone here.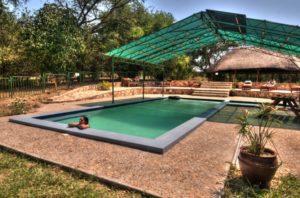 Murchison river lodge.
Murchison River Lodge is situated directly on the southern bank of the River Nile overlooking Uganda's largest national park, Murchison Falls. From the vantage point of the lodge bar and restaurant you are treated to panoramic views of the park and the infamous River Nile as it flows downstream between papyrus islands and pods of hippos.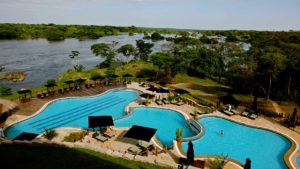 Chobe Safari Lodge
Located in the Murchison Falls National Park, this Five Star lodge is undoubtedly the gem in Uganda's crown of tourism destinations. The breathtaking panoramic views, coupled with the sounds of the River Nile's magnificent rapids, sets the scene for an adventure that will impress even the most discerning of visitors.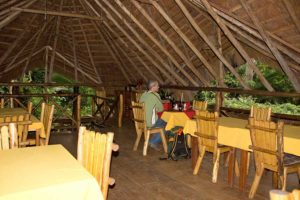 Kibale Forest Camp
Kibale Forest Camp offers an affordable classic canvas experience in the form of 10 African safari style tents tucked away in a lush forest. A budget alternative is our lazy camping on our campsite.
Complemented by excellent food served in a cozy grass thatched restaurant, also a perfect base if you are looking for an affordable and comfortable place from where to explore the area.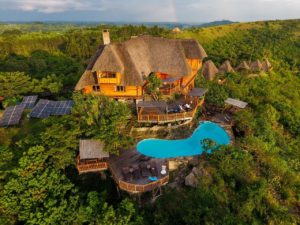 Kyaninga lodge
Set against the stunning backdrop of Lake Kyaninga and the Rwenzori Mountains beyond, Kyaninga Lodge is the spectacular result of one man's vision and six years of unwavering commitment to creating an experience of Africa's beauty unlike anything else.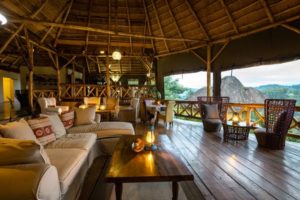 Crater safari lodge
Just a few minutes away from the lush green tropical rain forest of Kibale Forest National Park, Crater Safari Lodge offers incomparable luxury, breath-taking scenery and outstanding opportunities to observe the unique wildlife.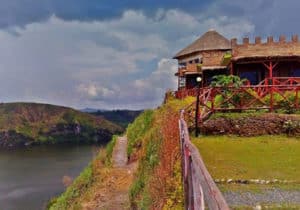 Lodge Bella vista
Lodge Bellavista is an Italian themed lodge overlooking Nyamiteza Crater Lake 40 km from Fort Portal and Kasese. Built and managed by retired Italian diplomate who has lived in Uganda for over 35 years.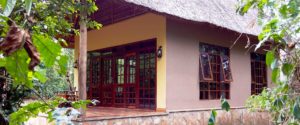 Primate lodge
Primate Lodge Kibale's principal edge is our location, tucked deep in the forest and right next door to the starting point for Chimpanzee Tracking as well as the incredible Chimpanzee Habituation Experience, arguably, two of the most genuinely breath-taking wildlife experiences on the planet.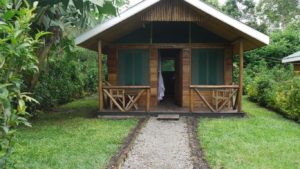 Rweteera safari park
Rweteera Safari Park is located at the entrance of Kibale Forest National Park next to the shore of Lake Nyabikere. The accommodations offers basic tents and traditional roundshaped chalets. The beds are draped with a mosquito net.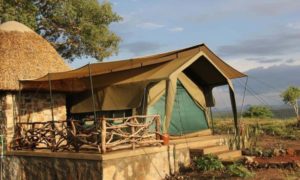 Kidepo Savannah Lodge
Being just 500 mt away from Kalokudo gate, the lodge is literally on a stone's throw from the Park. It offers  unparalled vistas of the expansive Narus Valley, Mount Morungole and the distant mountain ranges which form the border with Southern Sudan.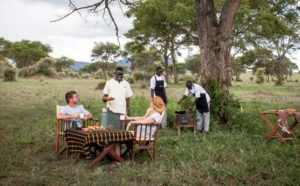 Apoka lodge
When you close your eyes and think of Africa, the landscape you imagine – the jagged hills, the golden grasses, the plains dotted with wildlife, the soft glowing light – is likely to be Kidepo. This is Uganda's most remote park, far away from city life.